Peter Hess® Therapy quality singing bowls
The "jewel" or as one of our friends once said a "Rolls-Royce" among the singing bowls! The unique Peter Hess therapy singing bowl with all its vibration and sound characteristics has been specially developed for the Sound Massage therapy.
In effect the bowls with frequency spectra and vibration characteristics required for the corresponding body areas.
In terms of the sound, the singing bowl must be harmonious and without any frequency jumps or background noises and without inappropriate side tones, such as, for example, a high challenging tone. The sound spectrum must sound very rich in overtones and react flexibly. These are some of the important features of the Peter Hess® Therapy Bowls.
The basis for the construction and production are the old knowledge about the production and the material composition of good and suitable for the sound massage, traditional singing bowls.
The optimal realisation of the parameters important for the sound massage and therapy work is the success of an intensive work with singing bowls and the sound massage and the implementation in the development work and production since 1984
Universal or joint bowl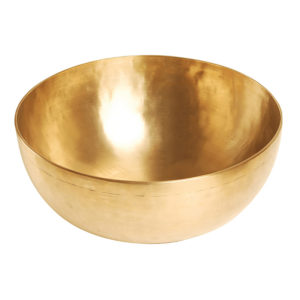 This is the pride and joy of the Peter Hess® Therapy Bowls range. This bowl is suitable for early work (beginner) with sound and for all body areas. But it can also be the centre of a harmonious bowl set used for the intense professional work. This is why we recommend this bowl for the beginners, as no matter where the sound work will take you (using the bowls at home for your family and friends or in professional work setting), the Universal bowl will always be your faithful companion.
The joint bowl, also called universal bowl, weighs about 900 – 1000 grams and is thin-walled. It has a wide range of sounds and can thus be used for the whole body – particularly wonderful for the foot and hand reflex zones. It is characterised by an intense vibration. Therefore, it is particularly suitable for use on joints.
The secret of versatility of this singing bowl is the use of different mallets and the striking technique.
This singing bowl, when played with different mallets, can change the sound character.
That means that with small hard mallets this singing bowl becomes very dominant in its overtone chain (it resolutely clears up all bright tones).
For thicker soft mallets this bowl sounds much deeper and the strong dominant low frequencies are audible and noticeable.
So this bowl has its place in its application all over the body, with the different striking techniques. Hence the name: "universal bowl".