Sound Bath Facilitation Workshop
January 30, 2021

-

January 31, 2021
Do you own Singing Bowls and other sound instruments and would like to use them more effectively?
Do you feel drawn to offer a deeply-immersive, whole-body listening Sound Bath experience to your friends, family, clients or community but are lacking the experience, knowledge or confidence that you feel you need?
Do you want to help create balance in people's lives, provide stress and pain relief through the restorative and therapeutic benefits a Sound Bath offers but need support to take the next step?
This "hands-on" two day workshop is your opportunity to learn about the fundamentals of working with sound in a group setting and will give you the knowledge, skills and confidence to develop and facilitate your own Sound Bath experience.
Content: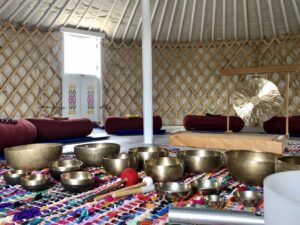 • What is a Sound Bath?
• Science of sound and the holistic effects on mind and body
• Trance/Deep Relaxation
• History and Characteristics of instruments
• How to play a variety of instruments/mallets including Singing Bowls, Crystal Bowls, Sansula, Koshi Chimes, Rainstick, Ocean Drum
• Introduction to playing Gong and Monochord
• Creating and holding a "safe" space
• How to plan the event
• Compose a Sound Bath
• Play a Sound Bath and receive feedback 
Prerequisites: Peter Hess® Sound Massage Level I and and above recommended
Seminar leaders: Ute Coleman
Duration: 16 hours
Times: Please see the workshop venues for the registration and confirmation
Course fee: $440.00
Price includes Certificate of completion, written course materials (student booklet), morning and afternoon tea, training equipment for duration of the course. Meals and accommodation are not included.
Equipment: Peter Hess singing bowls, gongs and other instruments are provided for the training needs. All are available for purchase after the course.
Meals: Morning and afternoon tea is provided by Peter Hess Academy Australia.
Bookings: Essential, here
What to bring: warm, comfortable clothing, socks, (blanket and pillow if possible).
Massage table if you own one (not necessary).
Although student booklet is provided, you may bring pen and paper to make notes.
Your friend,
Your cheerful disposition
SBFWA25042020